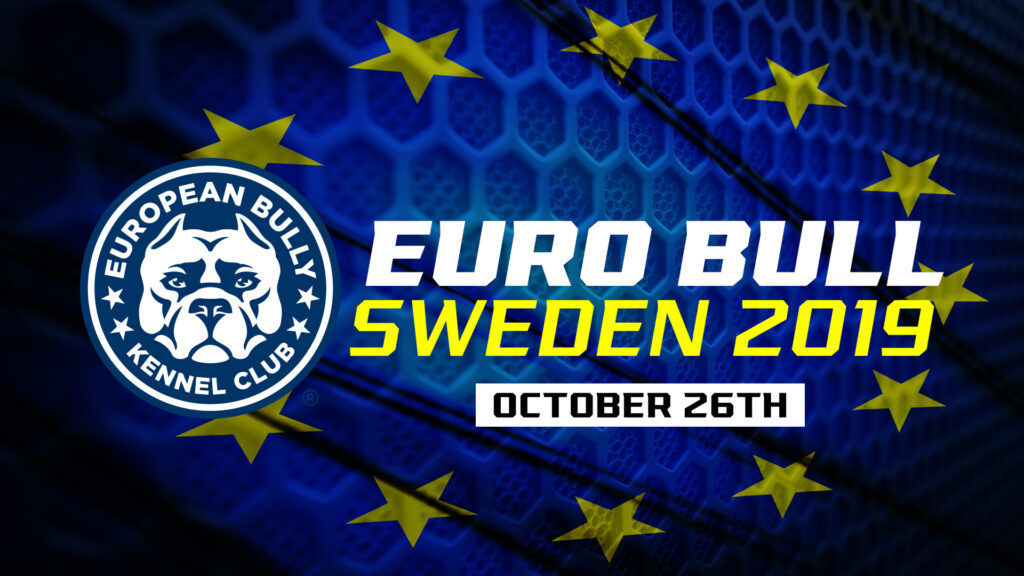 The EBKC returns to Sweden with the EURO BULL EXPO 2019 in Halmstad.
Sweden has for a long time been the Heart of the Bully Breeds in Scandinavia, so be prepared for a Classic EBKC event that will attract some of great dogs from the North & Central Europe. The event consists of 2 International Bull Breed Dog Shows sanctioned by the EBKC.
Show Venue
Halmstad Hund Arena
Address:
Skedala Rosenberg 157, 305 93 Halmstad, Sweden

View on Google Maps
Interational Judges
The Honourable Senior Judge Giovanni Attoma (IT)
The Honourable Judge Pieter Van Mourik (NL)
Breeds on Show
American Bully
American Bulldog
Bulldog
French Bulldog
Olde English Bulldogge
Open Class (All EBKC recognised breeds)
Underdog Class (All EBKC recognised breeds that are spayed or neutered)

Age Groups
3-6 Months
6-9 Months
9-12 Months
1-2 Years
2-3 Years
3 Years & Over
Show Dates & Times
DOUBLE SHOW – Saturday 26th October 2019
Doors Open: 9:00 Hrs
Show Starts: 11:00 Hrs
HOTELS NEAR THE SHOW LOCATION
www.tallhojden.se ( situated in a small village about 5 km from the Halmstad Hundarena)
www.ligula.se/en/goodmorningshotels/halmstad/ ( they only got three room for pets! Situated in a big shopping center about 5-6 km from Halmstad Hundarena)
www.hokagarden.se ( Its a bed & breakfast situated on the countryside about 6 km from Halmstad Hundarena)
www.grandhotel.nu ( In the town Halmstad, about 7 km from Halmstad Hundarena)

Show Fees & Breeds / Vendor Stands
Closest Airport to Show: Copenhagen Airport (CPH) or Gothenburg Airport
The distance to Show Location by car from Airport is approximately 2 hours.
EXPO FEES:
Online Show Pre-Registation: 70 EUR per Dog
Show Registration at Show: 75.00 EUR per Dog
EXPO VISITOR FEES:
– Adult Visitors (without dog) 10.00 EUR
– Adult Visitor with dog (not showing) 20.00 EUR
– Children under 15 years old with parents FREE
EXPO STAND FEES:
3mx3m Kennel/ Exhibitor Stand Space – €100
(includes 2 entrance passes)
EXPO STAND DISCOUNT FOR GROUPS:
EBKC EURO BULL EXPO SWEDEN 2019 -SATURDAY 26TH OCTOBER
SPECIAL DISCOUNT ON STAND SPACES FOR KENNEL/
– Pre-register 2 Dogs and get stand space for €80 (3mx3m)
– Pre-register 3-4 Dogs and get stand space for €75 (3mx3m)
– Pre-register 5-7 Dogs and get stand space for €70 (3mx3m)
– Pre-register more than 8-10 Dogs get stand space for €50 (3mx3m)
Dogs must be registered with EBKC.
Offer valid until spaces are available.
VENDOR STAND FEES:
3mx3m Vendor/Product Seller Stand Space – €200
(includes 2 entrance passes)