CLICK HERE TO PRE-REGISTER YOUR DOG
EXPO STAND & SHOW FEES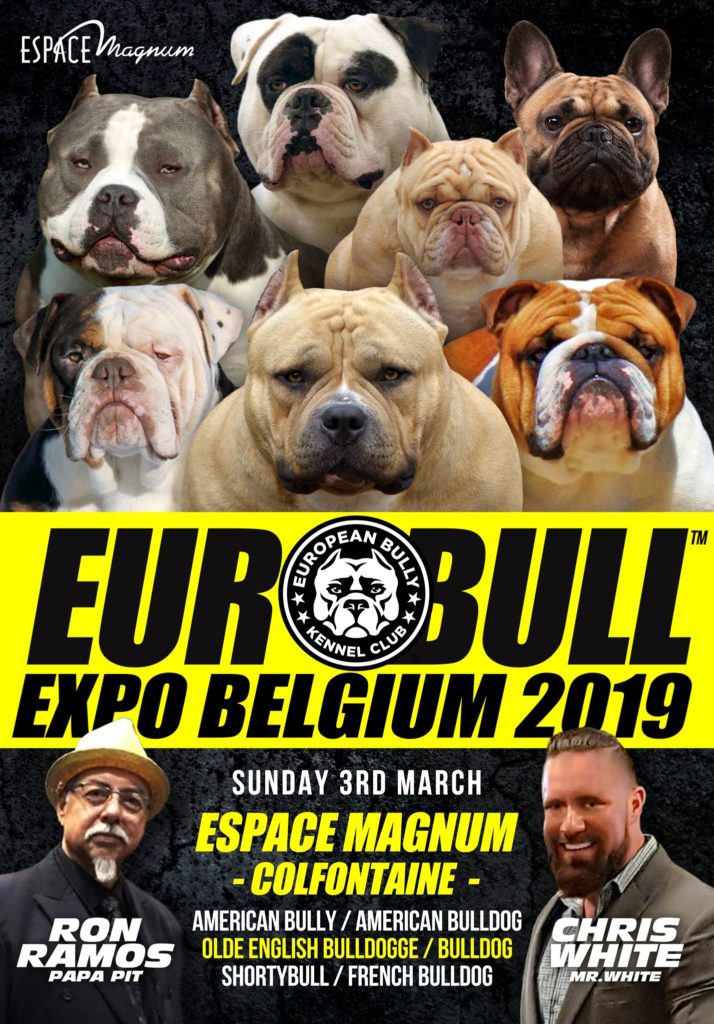 THE EBKC EURO BULL EXPO TOUR 2019 starts off on Sunday 3rd March 2019 in the City of Colfontaine at the Espace Magnum Event Center. The EBKC is known to host the largest Multi-Breed Bull Breed Dog Shows in Europe in various Countries attracting hundreds of dogs, fanciers and breeders from all over the World. The event also features a Live DJ, Kennel & Vendor Stands, Tattooists, Barber Shop, Custom Car and Motorcycle Show, Restaurant & Beer Bar.
INTERNATIONAL DOUBLE CONFORMATION SHOW
– American Bully
– American Bulldog
– Olde English Bulldogge
– Bulldog
– French Bulldog
– Shorty Bull
INTERNATIONAL JUDGES
Ron Ramos (USA), Chris White (USA)
ESPACE MAGNUM – AN EXCLUSIVE LOCATION
The Espace Magnum is 2500 sqm event centre situated in the heart of Colofontaine, a Walloon municipality located in the Belgian province of Hainaut, and comprises the former villages of Pâturages, Warquignies, Wasmes, and Petit Wasmes. very close to the city of Mons. The European Bully Kennel Club is proud to have signed an exclusivity on this beautiful location for Bull Breed Dog Shows.

CONTACTS:
FRANCAIS: SYLVAIN MARLIERE
Mobile: 0032 478 74 90 18
Email:ebkcbelgium@gmail.com
ENGLISH: ANDREA SELVAGGI
Mobile: 00356 99452279
Email: info@ebkc.org
ESPACE MAGNUM
ADDRESS: Avenue Docteur Schweitzer 1, 7340 Colfontaine, Belgium

HOTELS
(Pet Friendly)
Congres Hotel Van der Valk Mons
Avenue Mélina Mercouri 77000 Mons
+32 (0) 65/ 39 02 07
reception@hotelmons.eu
IBIS Mons Centre Gare Hotel
Boulevard Charles Quint 27, 7000 Mons, Belgium
+32 65 84 74 40
ibismons@monshotels.be