The First edition of the EBKC INTERNATIONALS 2017 will take place on Sunday 19th November2017 in the City of Eindhoven at the Indoor Sporcentrum Arena of Eindhoven. The EBKC is known to host the largest Multi-Breed Bully Dog Shows in Europe in different European Countries attracting hundreds of dogs, fanciers and breeders from all over the World. The event also features a Live DJ, Kennel & Vendor Stands, Restaurant & Bar
ABOUT THE LOCATION
The Indoor-Sportcentrum Arena in Eindhoven is one of the largest indoor sports centers in the Netherlands (4000m2). It offers sports, public and press quality facilities during (top) events. Ample parking (free parking) next door. Fixed grandstand with seating for 2,250 people. Furthermore, additional capacity may stand for 1750 people. Several meeting rooms, Press Room VIP rooftop view. See you on 18th June!
International Judges
The Honourable Al Rivera (USA)
The Honourable Ermanno Corrada (IT)
This event will have special classes such as the
BEST STUD DOG
BEST BROOD BITCH
Breeds in Double Show
– American Bully – Std, Pkt, XL, clsc, Ch
– American Bulldog
– Olde English Bulldogge
– French Bulldog
– Bulldog
Online Preregistration is now available click here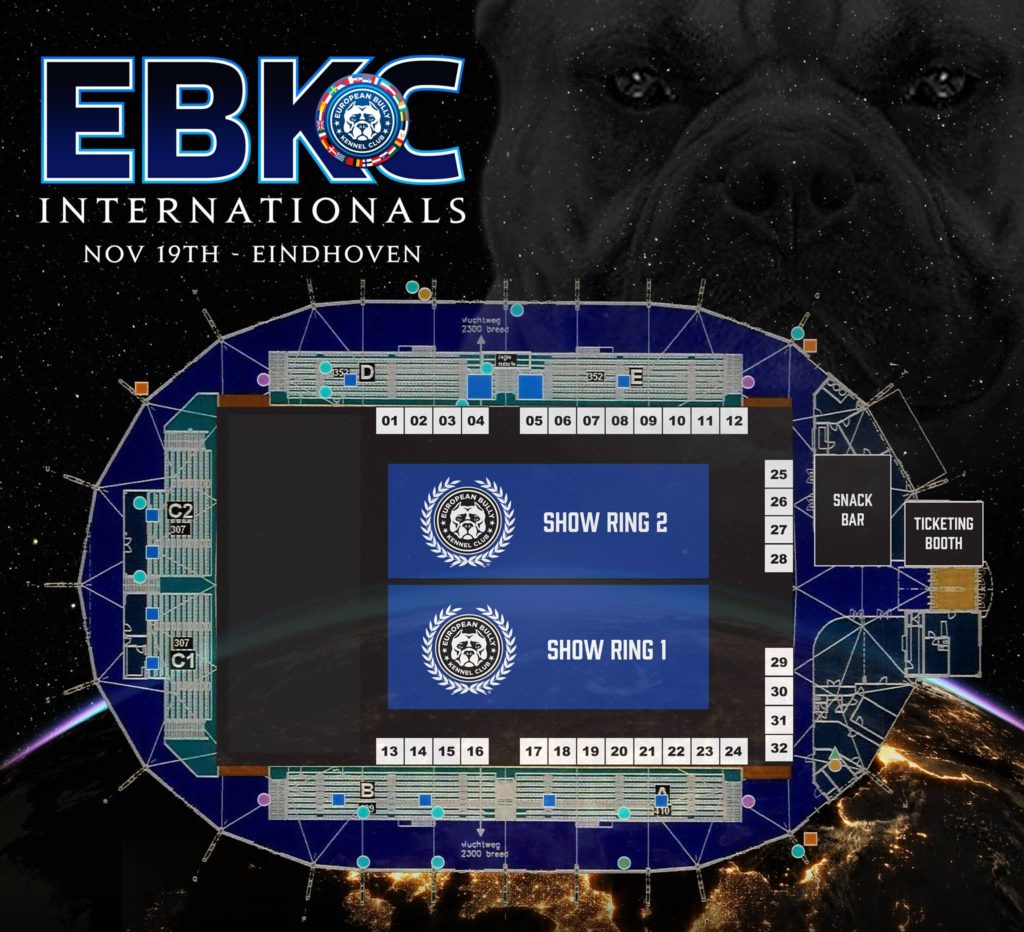 EBKC INTERNATIONALS 2017 – EINDHOVEN – NOV 19TH
Kennel Stand Spaces & Vendor Stand Spaces
3mx3m Kennel/ Exhibitor Stand Space – €100
(includes 2 entrance passes)
3mx3m Vendor/Product Seller Stand Space – €200
(includes 2 entrance passes)
Payment Methods:
A.) Paypal – https://www.paypal.me/ebkc
B.) International Bank Transfer (IBAN)
Account Name: EUROPEAN BULLY KENNEL CLUB
BIC: VALLMTMT
IBAN: MT21VALL22013000000040024789244
Name of Bank: Bank of Valletta
Country: Malta
Reservations E-mail: info@ebkc.org or ebkcnetherlands@gmail.com.
Things you need to know:
1. No outside food or drinks are allowed in the building.
2. No dogs must be left unattended.
3. Stand Spaces are on a First-Come-First-Served Basis and will only be confirmed once they are paid upfront.
4. Price of Space does not include Dog Show Entry and Stand Cancellations are not refundable.
5. If you plan on selling anything, you must purchase vendor Stand space.
6. All Dogs must remain in your StandSpace or in a crate/cage when not in the Show Ring or Handling Area.
7. No puppy sales are allowed at this event.
8. Aggressive dogs are not allowed.
9. Puppies under 3 months are not allowed in the building.
10. Female Dogs in heat are not allowed in the building.
11. We do not allow the selling of puppies at this show.
12. Every dog entering the building must have all vaccinations up to date and possess updated health certificate or valid EU pet passport.
13. Electrical supply is available on request for an extra charge.
– Dogs participating in this show must be up-to-date with their vaccinations and health checks. No sick dogs will be allowed to enter the building. A Vet will be at the entrance.
– Visitor entrance can be purchased at the door.
Free entrance for children under 12 years of age accompanied by parents or guardian.
– Human Aggressive dogs are not allowed. This is a Family oriented event. EBKC exhibitors and Spectators are expected to display good behavior and good sportsmanship in and out of the ring. Judges may excuse exhibitors from their ring for violations of these rules or conduct that interferes with the event and event participants. Event Committee members and club officials may excuse exhibitors or spectators from the show grounds for violations of these rules or conduct that interferes with the event and event participants.